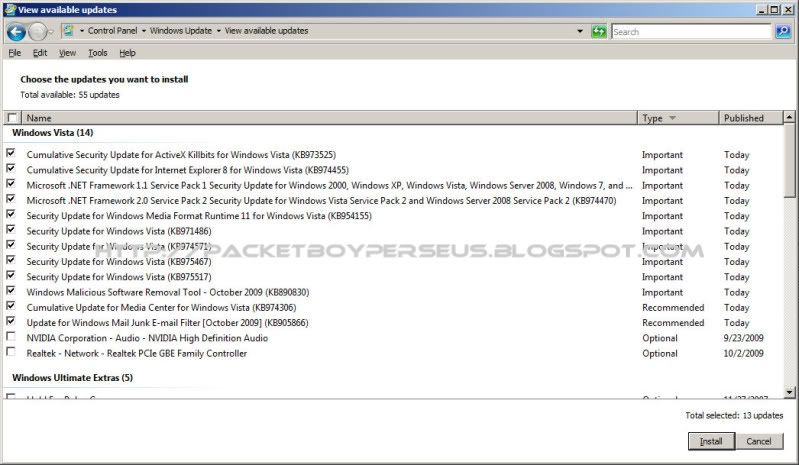 I
would like to thank Dungeons & Dragons Online MMORPG for giving me a reason to play around with my Lenovo SL300 again and at the same time discover the multiple security updates for Vista released today by Microsoft.

This laptop has been sitting around gathering dust for a while. Simply because I hated the bundled Windows Vista Ultimate Sp2 OS. I would consider it a moderate-gaming laptop, with a dedicated Nvidia 128mb graphics chip. I rarely open this laptop, save for occasions where I need to do cross-Windows OS platform compatibility and User Acceptance Testing (UAT) of our proprietary VoIP application.

Another reason I boot it up is just to make the Avira Free Anti-Virus and Spybot S&D definitions updated, and of course, checking for Windows Updates is critical and has always been a routine for me every time I boot up my Windows systems, and any Windows systems I play around with regardless if I have it set to acquire Automatic Updates.

Today, October 13, after getting tired of completing Rank 2 Quests for my female Monk character (Yes, shame on me, my account in DDO is VIP) I decided to log out of my alternate universe, head back to the real world and work on my Security+ reviewers and SANS Institute Reading Room materials.


Jumping from one security website to another is a good alternative method to review. Sometimes staring and reading a book with 1000 pages will bore you one way or another, and you will want something more interactive.
One of the websites I frequently visit is Threatpost.com, a relatively new site which I find very enjoyable to read. Not 2600'ish, but the articles and pictures are very enticing. The white page background and colorful graphics on this website makes the hardcore articles look like easy-reading, hence the enticing factor.

Threatpost also scales well on my Blackberry 8330's screen; as well as this humble blog of yours truly. Please go and try it. I find it very convenient to just pop-out my smartphone and read along every time I ride the BART going to work. Keeps me updated on the current IT security news. It's like Slashdot but only with Security-related topics.

Back to my Vista Ultimate SP2 box and its merry 12 updates from Microsoft on a single day, here's a screen shot of the list (click on thumbnail to enlarge screen shot)


Just by looking at these KB numbers I am already having headaches :-) Head to Microsoft's Security Bulletin website to find out what each Knowledge Base (KB) is all about:
http://www.microsoft.com/technet/security/current.aspx

You may want to try and use Microsoft's Baseline Security Analyzer on a couple of your Vista boxes. Just to make sure your Vista boxes, your brother's, your sister's, even your friend's friends Vista boxes are updated and safe.

Vista is beyond SMBv2 exploit (MS0-9050) nowadays, it has been a haven of choice for wannabe hackers and script-kiddies.
I wonder what's going to happen with Vista with Windows 7 coming out in a few days. Will it be the new Windows ME in memory?

Play safe kids.
Ron